I was recently intrigued by the headline of a Smithsonian article published a few months ago called, "28 Places to Go Before You Die." Despite it being a travel article, the headline called attention, above all, to the fact that the reader will at some point die. Places are elusive, you've seen them and then what? You die. But unlike places, songs are retainable. They become part of your day, morning, mid-afternoon, eveningtime. They work their way into your routines and love affairs, into a moment when you've lost track of everything. Songs equally belong to the seasons, and so I've given myself the task to post and write about songs that belong to the summer. Here are five.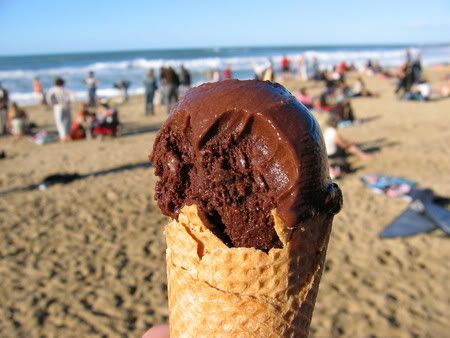 Biarritz © 2004

1. Datarock - Princess (Morgan Z remix)

If Animal Collective were strictly a dance group, I imagine this is what they sound like. Much like an AC song, this one never gets repetitive. Norwegians yell over the freshest bips and bloops, then orchestra synths, then glam-rock guitars, and then it all culminates into an acoustic guitar six chord melody that feels like an early morning summer's breeze. Feels good, tastes good.


2. Paul Simon - The Obvious Child

Summer loves parades, and parades love drums so this is a fitting choice. Paul Simon is one of the first to mash genres of music, leading all the way to Dan Deacon. On this album, he blends the styles of rock/folk with Latin American sounds so perfectly it's hard to tell where one stops and the other begins. Also, this song includes one of my favorite lines of all time: "Well I've been waking up at sunrise/ I've been following the light across my room/ I watch the night receive the room of my day."


3. The Rubies - I Feel Electric (Tiedye remix)

The Swedish redo of this Rubies song featuring Feist build the setting of an impossibly hot landscape. This year so far has had some of the most drastic weather: no one is sure if Global Warming is supposed to make summers hotter or winters colder? But if anything, we've been waiting for GW our whole lives. The weather is the number one topic between humans, and finally it's getting exciting.


4. Sébastien Tellier - Roche (Link Removed As Per Request)

We're all amoreuse des trucs sébastiennes, and Sébastien loves Biarritz. This song, which might have made R. Kelly a little jealous he didn't pay attention during French class, keeps it simple, but in its simplicity, beauty. I feel like this is a perfect song: it knows when enough is enough and when too much is too much and it captures the minimalism of a day at the beach--far niente--to a T.


5. B-52s - Dirty Back Road

When I first heard this song I was blown away that the B-52s, who are currently on tour, could sound so good. The album Wild Planet came out in 1980 and was their second. The lyrics seem to describe driving wrecklessly down a deserted road--but there seems to be a fine line between driving and sexual intercourse. But oh, those summer nights...