These things start sneaking up on you at this age. When I was a kid, this kind of distance from christmas was still forever away. The other day I realized that sometimes songs can make me so happy that I have this weird desire to somehow give the song to friends as gifts. As though one song can be so good that it has the potential to match the status of a true gift that you buy in a store or make yourself. Anyway, the best things in life are free--and if not, they are often 50% off in select retail stores.

So, imagine you are a child and you descend the stairs allured by the magical glow of the christmas tree covered in tinsel, which you are sure was the work of Santa himself. You see what you perceive to be hundreds of gifts piled up one on the other. You take one box and hold it up to your ear. It is covered in a pure red wrapping paper; it feels heavy and perfect in your hands. You shake it. Then, overcome by anxiety you decide to open it, even though your parents aren't awake. You rip open the gift wrapping and peal back the cardboard box to reveal two recent podcasts by Alan Braxe and Todd Terje!

The once-somber house fills with the sound of quick guitars, disco-cooing, incredible transitions, and the Terje remix of Lindstrom's "Another Day." As you are dancing about the tree in a state of merriment, the finale of Terje's mix begins: a two-part Balaeric marathon, including a Terje edit of "Josephine" by Chris Rea! Your parents and sister, awakened from the noise and the first day's light, rub their eyes of sleep as they come down the stairs. Though normally they would be angered that you woke them up so loud, the music fills them with such holiday joy that they join you and as the sun rises you are enraptured by Alan Braxe's mix.

Subscribe to Together podcast

This time of year reminds me of France if I am not living there. They seem to celebrate winter much better than we do in America with the marchés noëls and all that. The night December 24th, 2004 comes to mind with particular clarity today. We had taken the night train from Bordeaux to Lyon. In the morning we woke up and found our hotel. We spent the day aimlessly wandering the city--found ourselves walking the streets at the heighest points and later, in the lowest alleyways. When the sun sank the sky's veins pulsed orange and purple that seemed almost too amazing to be true. The quiet square near our hotel was filled with the hushed echoes of people perhaps frightened by the show in the sky, not wanting to make too much noise.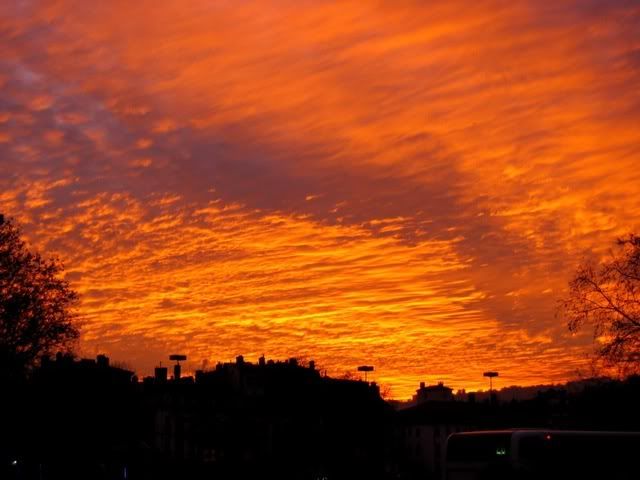 Lyon-- Christmas eve, 2004